Star Cellar Door
We certainly have a big telescope at hand.
Blend Block Snowfall Early Days
The top of the Blend Block with Stephen wondering off into the distance.
Blend Block First Flush
We used tomato stakes to get the vines above the probable frost zone.
Cabernet Franc Hard Grown
So, how many bunches does it take to make a bottle of wine?
Bloodwood: Orange
What else is there to say?
A Superb Superb Parrot
There are around 5,000 of them left in the wild, and some of them visit Bloodwood's wattles regularly each November.
Riesling Vineyard Under Snow
Riesling likes cool, well drained gravels. We have them in spades at Bloodwood.
An Autumn Sunset
So, it's another sunset picture; but what a sunset. A real Galah sky.
Blend Block First Plantings
Schubert Vineyard Under Snow
Looking East toward Orange.
This Is Luxury
Our first weatherish-proof home. Now part of the winery.
Front Gate
The smaller the sign the better the wine..not always.
The Cellar Door
Our beautiful Cellar Door lovingly designed and painted over a decade by Wayne Harris.
Patterson's Curse...
or Murrumbidgee Bluebell flowering along the creek. An abstract experience.
Orchard Planting
We planted orchard trees to entice the birds away from our grapes. Results are inconclusive.
Daisy And Horus
This is what happens when your neighbours Hereford bull jumps your fence. Poor old Daisy.
Pruning Abandoned
You can have today off Stephen.
Blend Block Coming Into Autumn
And annual, gentle delight.
Posts For The Chardonnay Vineyard
We use untreated iron bark posts when wood is called for.
Clarrie Lending A Hand
If you visit Bloodwood you get a job.
Ripping Cabernet Franc Rows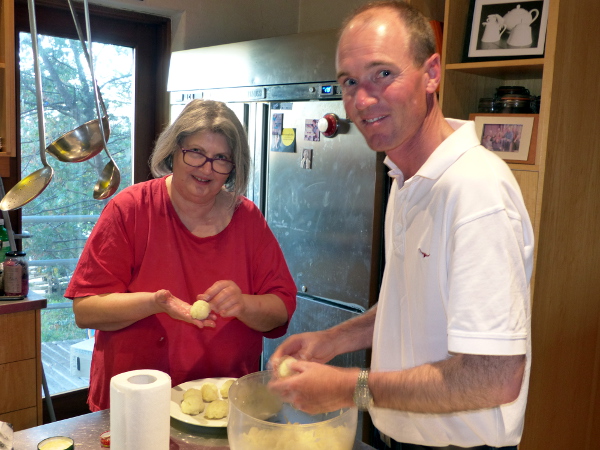 Cookin' Up A Storm
Rhonda and Marty doing their dough.
Chardonnay Earthworks
Ripping is the easy part. Planting can be back breaking.
Hereford Calf Welcoming His World
We have always raised a small herd of calves. Initially they were Hereford. Nowadays we run Black Angus.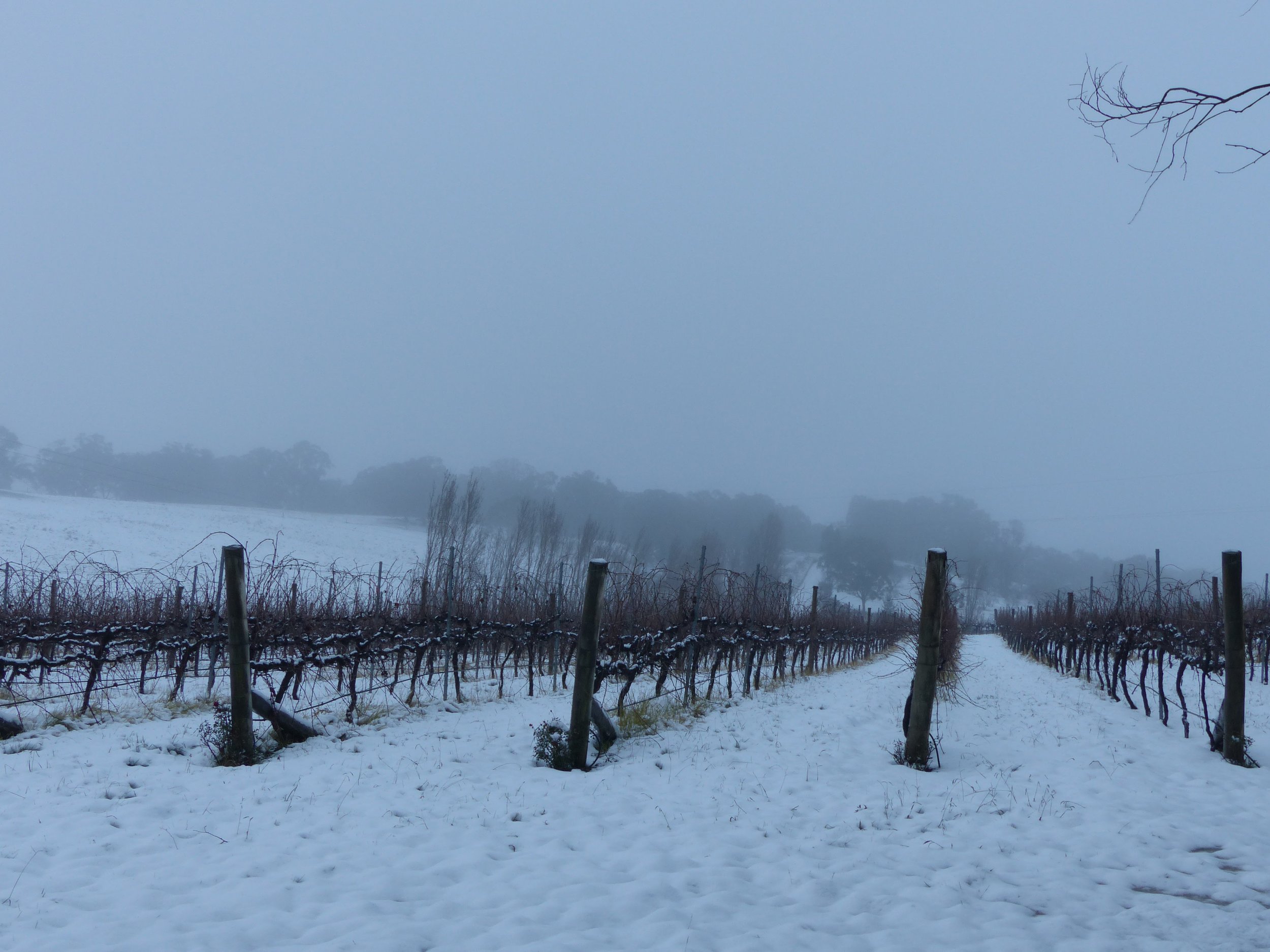 Top Shiraz Block
Some winter mornings it is better to stay in bed.
It Takes More Than A Shovel
Trenching For Cuttings
We grew out cuttings for rootlings in our early plantings.
OTT Front Gate
Well, it is a statement that we are here to stay.
Everyone needs a distraction
Cold Stabilization, Bloodwood Style
Preparing wines for bottling often requires cold stabilization. Orange in winter helps.
Looking at Orange...
The vineyard transforms under snow.
The Entire Team
As Randy Newman says, "everybody goes bad eventually".
Cellar Door visits
Bloodwood is open by appointment only. Please contact Stephen or Rhonda Doyle before you venture out to the vineyard so we can be here to welcome you!
PH: +61 2 6362 5631
231 Griffin Road Orange, NSW 2800
If you are planning to visit us please provide your contact details before you arrive by signing up for our mailing list.

* you can unsubscribe at any time